It's taken me longer than I like to post this, but I hope most of you will understand why once you've read the whole thing. As most of you know, our two new daughters will be arriving home with Daddy tomorrow morning. Yay! Now for further news…
When we started this adoption process, Joel and I talked about someday having another biological child once the girls were here and settled. We thought it would be nice to have one more baby, and it might also help our family bond a bit over the common experience. But I wasn't absolutely sure I wanted to go that route. My pregnancies have gotten progressively harder each time, and I wasn't at all sure I wanted to go through another one. But seeing as we wanted to get the girls home and settled which would mean having them here for a year or so, and then with the fact that it usually takes us a year or so to conceive once we start trying, I figured I had plenty of time to put off thinking about it.
And God laughed.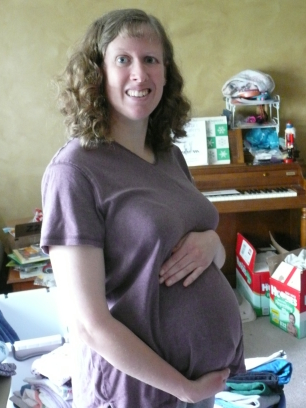 Baby H will most likely make an appearance in late September or early October.
Now to explain why we've waited so long to announce. As I've said, this news was a surprise to us. We weren't trying for it this time, and since we usually have a little trouble conceiving we were doubly surprised to find out we were expecting again. When we did learn of the situation, we discussed it for a while to figure out how to handle it given our current adoption. We finally made a decision which may very well irritate our agency when they find out, but which we felt at the time was appropriate: we would hold off on telling them at least until after the first trimester. I've lost two babies to miscarriage, one of them quite late in the first trimester, and I simply couldn't deal with the idea of our adoption being delayed and then losing a baby on top of that. Remember, we weren't sure how old the Ethiopian court would say Liya was, and we were afraid they might decide she was too old to adopt out. The longer we waited, the more real that danger became. By alerting the agency to the pregnancy at that point, I risked losing both our older girl we were trying to adopt and the baby I was now carrying. It was a risk I wasn't willing to take.
We probably would have told them when I entered the second trimester, but as God worked it out, our court date ended up being assigned earlier than expected and my first trimester led us right up to it. Once the court date had happened, the girls were legally ours. Technically, we could have announced then, but we chose to be paranoid. We've heard of some strange things happening in adoptions, even after the court date, so we decided at that point that we would wait until the girls were on the plane on their way here before we made any official announcement. 🙂 They're on the plane now, so here's the news! 🙂
A short summary of my condition so far: everything seems to be going ok. We had a scare around 15 weeks when I randomly started bleeding, but it didn't last long and an ultrasound showed that all was well. I did have a really incredibly rotten first trimester (some of my facebook friends may remember that I suddenly disappeared for a little more than a month) where I couldn't move for being sick. I couldn't even use my laptop because the warmth and the sound of the fan made me more nauseous. It was crazy. Once that passed, I had a lot of energy trouble, partly because I had been stuck in bed for at least a month. It's only been in the last few weeks that I've felt mostly back to normal, and even now I tend to have good days and bad days. That's somewhat expected, though. We're praying at this point that my disk injury in my lower back won't act up like it did in my last pregnancy as I got bigger. So far it hasn't been too bad, so maybe it'll be ok this time. Prayers are appreciated.
And there you have it! Three new children for the Fouse family in the year 2009. Wow. Certainly not our plan, but it must be in the plan of the One who knows better than us. I'm trying to rest in that. (From five to eight! Ack!) Forgive us for not announcing sooner! I hope all of you understand (including our agency when they find out!). 🙂